I've finally taken the 10 minutes it actually takes to get some pictures of the house, and I'm ready to show you. We've been busy on home projects, tough work schedules, a bossy baby, and hosting and visiting family.
In the few weeks since my last update we had happy days and sad days – many more happy than sad. However, we did say goodbye to our dog Beaker. As a dachshund, he was born to have back problems, but Beaks had it especially rough. His prior owner was abusive and lead to some major back damage that meant he couldn't control his back legs well – and sometimes his bladder. Once we moved into this much bigger house, things only got worse. It was clear it was time to put him to sleep. It was a sad day, but the right decision. Here's to you, Beaks. We miss you.
Fortunately though, we had plenty to celebrate around here too. My sister-in-law got married and the entire family was in the wedding.
Little K was a stinky skunk for Halloween.
And Little K finally started walking!
He's much more stable after a couple of weeks of practice, but he's not without a few extra tumbles these days!
So anyhow, we've been busy. I'm hoping the hibernating phase of winter starts soon! In the meantime, let me show you around our new place:
Hold on to your hats, this could get a little long. Come on in!
Here's the welcoming committee, Little K and Waldo! And, to give you the full effect – not because I'm lazy or anything – I didn't do any cleaning or picking up of the toys. Doesn't just feel like you're walking through the toy-strewn house with me?
This is the entryway. We love the tall ceiling and the openness that you feel from the minute you walk in.
This is the dining room. Stunning in it's simplicity, isn't it? Ok, so right now it's just a big open room I'm using to fold laundry and where Little K really practices his walking. But here's what I"m picturing: I'd like to get a really big round table in here some day with nice upholstered chairs. We're not much for formal dinners, but we have friends and family over fairly often to play board games or just share a drink and chat. I think a nice round table with comfy chairs would be so perfect for that! I'm keeping my eyes peeled for something interesting on Craigslist, but in all likelihood we won't get a table in there until at least the spring. Moving is expensive, yo. In the meantime, won't a big Christmas tree look just lovely in there?!
Head around the corner and you'll find the laundry room/mud room on the left. (Sorry about the smell, I'm washing Little K's diapers right now.) The door to get into the garage is in there and it's so nice to have a place to stash wet shoes right at the door. Our old split-level didn't have anything like this, plus the entry from the garage was on the lower level which meant we had to go upstairs to unpack the groceries. What a pain.
Here's where we eat most of our meals, right off of the kitchen and the deck.
Here is the kitchen. I think I've already told you how much I love this room. And now I love it even more. One of the things that bugged me the most were the beige outlet covers that were placed literally every two feet in the slate backsplash. We played with a few different ideas to fix that, when finally E said, "Why don't we just put in some stainless steel covers?" YES. Done. E replaced them all a few weeks ago and I'm in love. The stainless steel/grey outlets blend right into the tile and make the kitchen look so much more sleek and clean. E, you rock.
Here's another, less dark view.
If you're in the kitchen looking out at the table here is the view you have. See what I mean about this room just being so open? It's so nice having people over now and being able to work in the kitchen while they relax by the fireplace or snack at the kitchen table.
The patio out to the deck is next to the kitchen table. We love having all the light from the big windows there and it's great to be so close to the grill. There isn't a stair on the deck to get down to the ground, but that's on our to do list in the next several years. Actually we have pretty big ideas for that, ranging from a wrap around deck to a deck with a four-seasons room attached.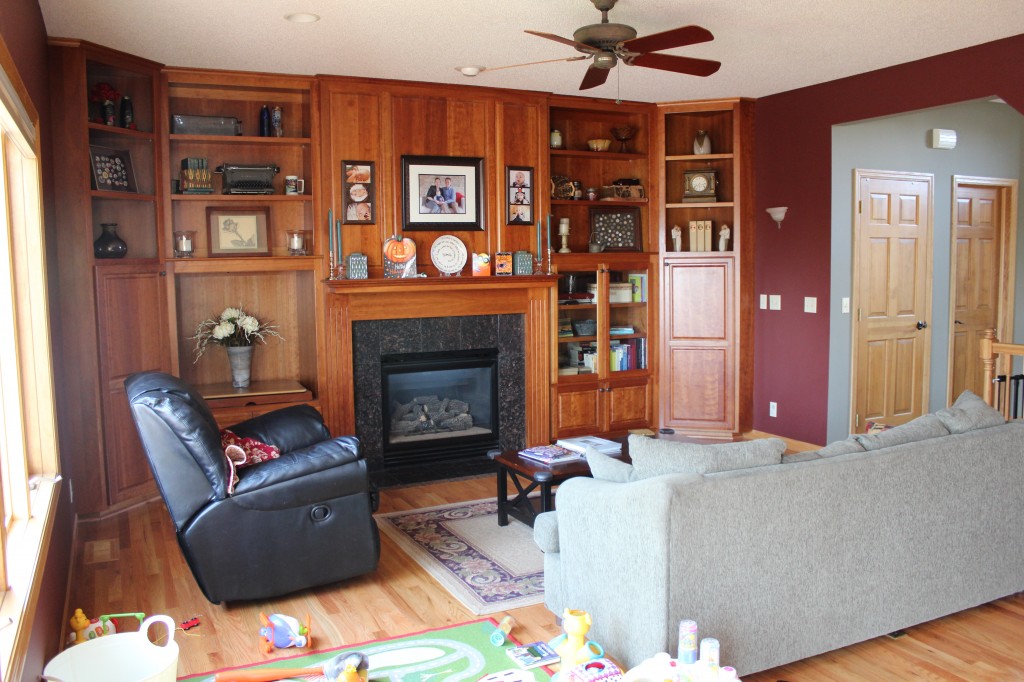 Back inside, here's a view of the sitting area upstairs. The last owner had a tv there above the fireplace, and though E's original plan was to put one there too – his mom reminded us how much we liked having a tv-free zone in our last house. We do want to buy different furniture for this room though. The leather recliner and green sofa just aren't fitting in here. I think we'll probably do leather, so it'll be an investment we tackle down the road. Even though the green sofa doesn't "go" with the room, it still is comfy to sit in!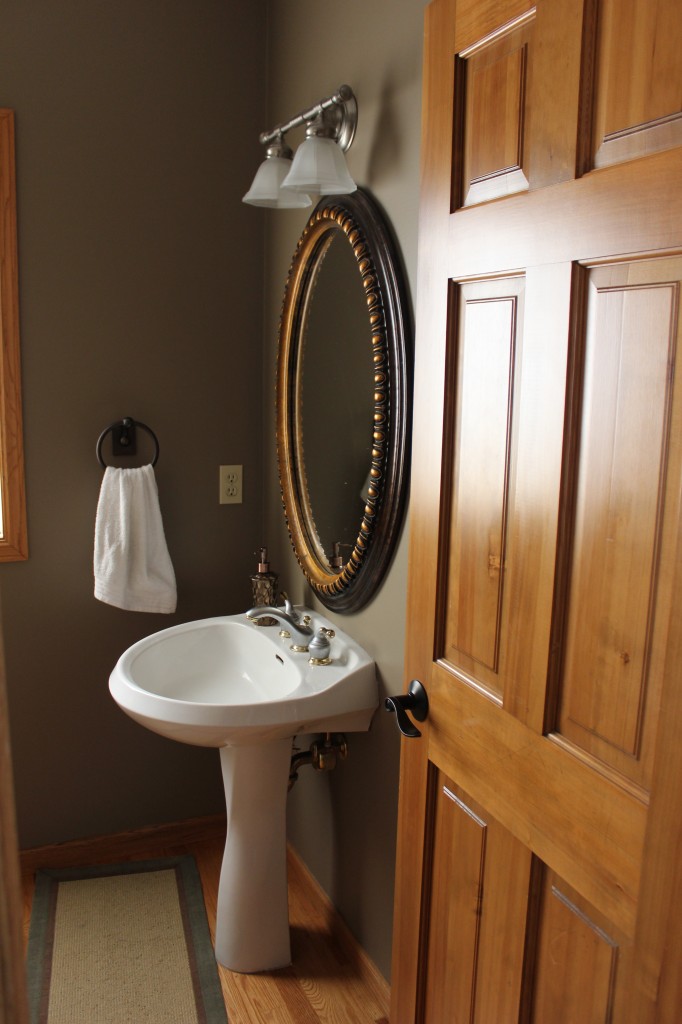 Around the corner is the main level bathroom. (There's a toilet, I just couldn't get it in the shot. I know, it totally ruined the tour, eh?)
Keep going around the corner and we're back where we came from – the front door. Just before that though is the office with french doors. I love the doors, but we don't often close them. We're trying to do better with that though because Little K has discovered how much fun it is to play with routers and glowing blue lights.
That black hutch is my little crafting/sewing nook. I'm not a super crafter, so that's plenty of space for me. I like having the chair in the corner too. Gives us a place for one of us to work quietly with the door shut if Little K is on a rampage or to watch tv on the computer in the room.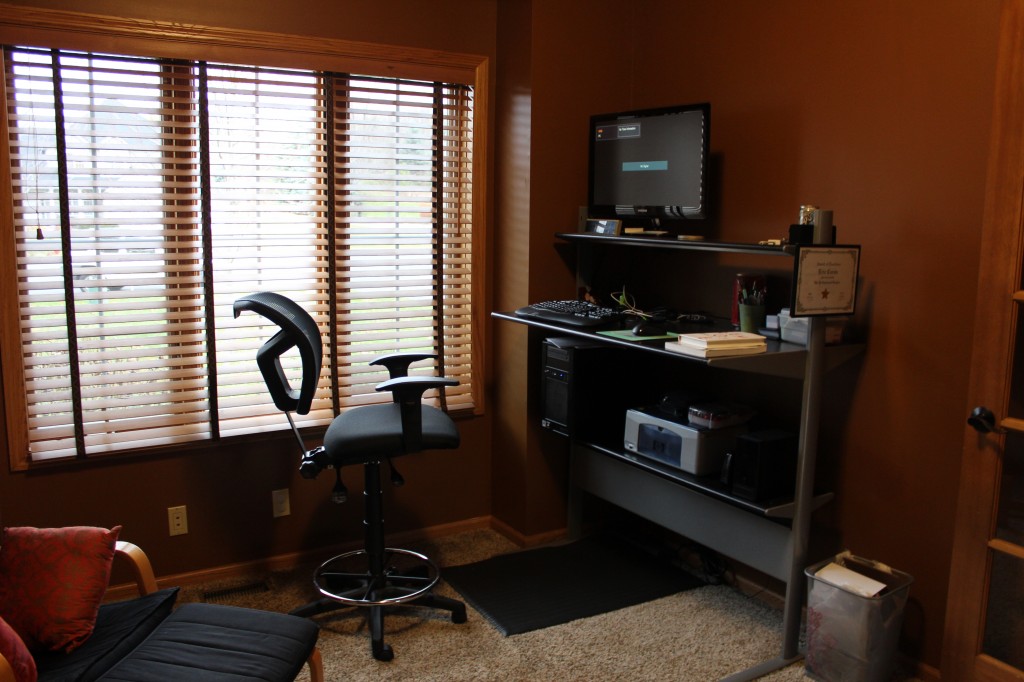 Speaking of computer, here it is. There's E's standing desk.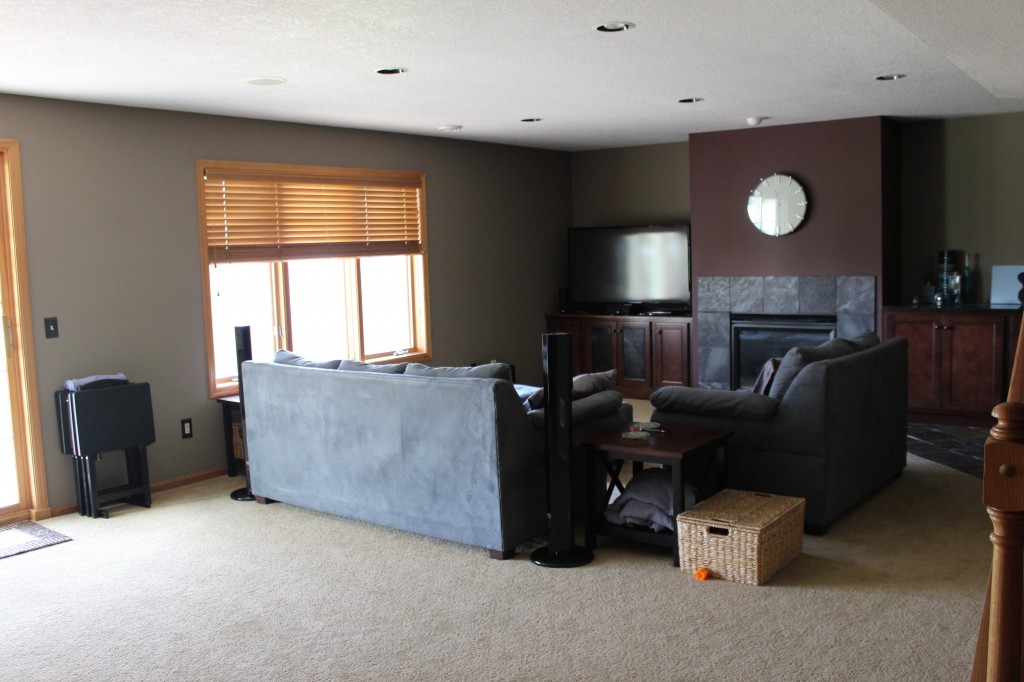 Lets back up for a minute though and head downstairs to the basement. Here is where we watch Downton Abbey, Elementary, and Homeland. We watch way more tv than our tv-free sitting room would have you believe. I don't love the sofas for this space either (though, luckily, they're a perfect color for the room), but I'd say this is the lowest on our priority list.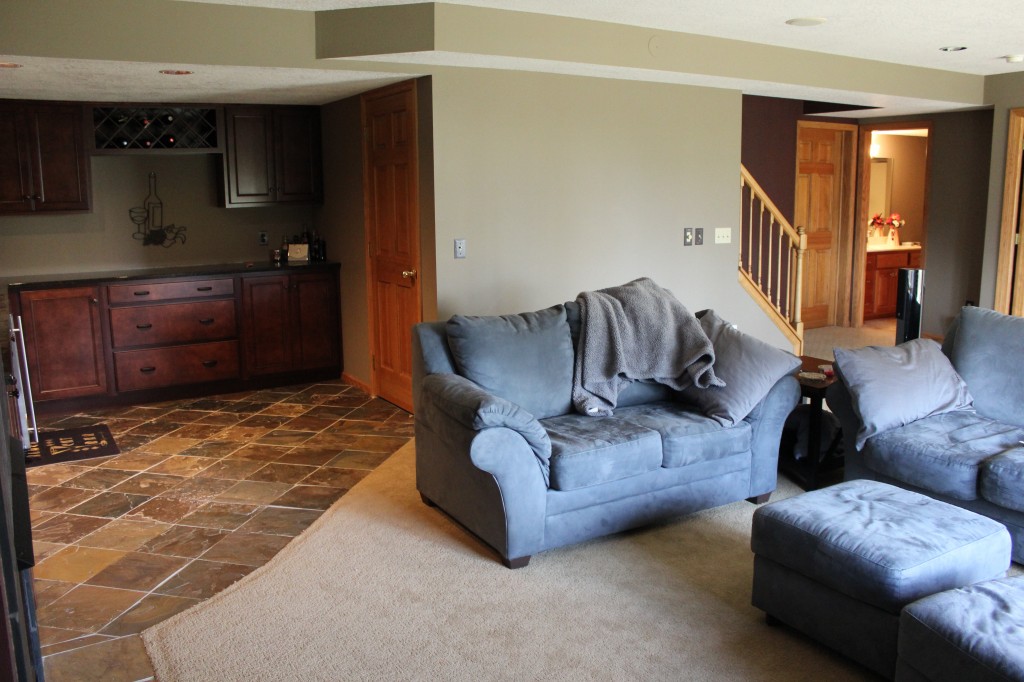 Here is the basement looking back from the other side of the room. The door in the right corner is the bathroom and the part in the left corner is our downstairs "bar."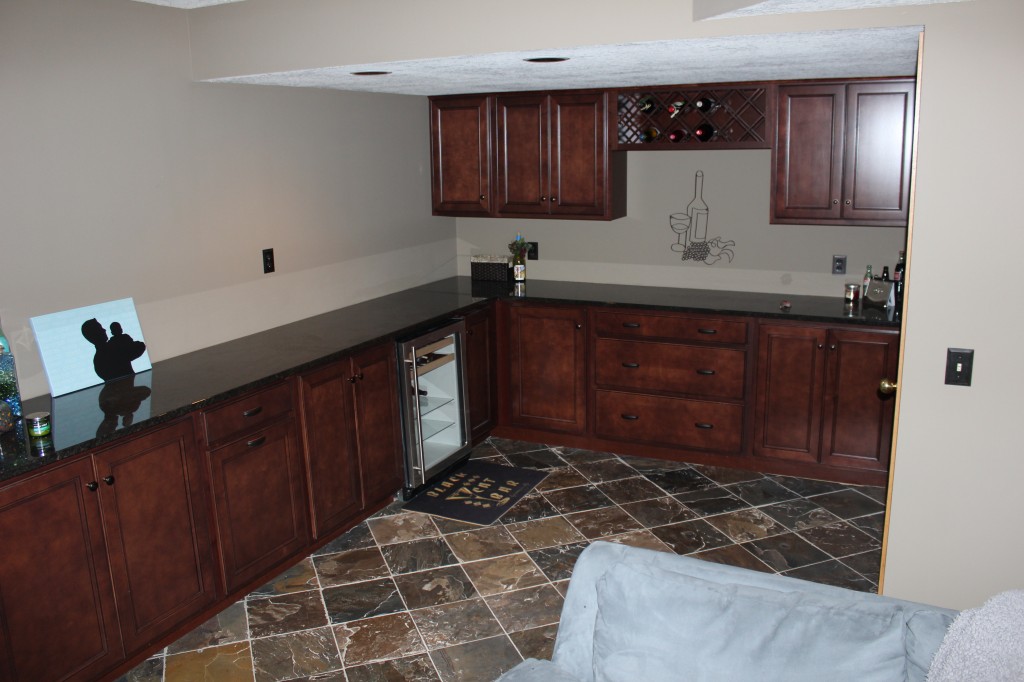 I love this area of the basement. It has a wine fridge and brand new cabinets and tiling. (Honestly, the guy had never even used them. The shelves for the cabinets were still stacked in the closet.) I use these cabinets for some of my upstairs overflow kitchen items (like roasting racks that only get used once or twice a year). We have plans to put in a sink where that metal wine thing is on the wall right now. That's happening sooner than later, but we haven't had time or interest to put any thought towards it yet.
Here is the downstairs bathroom. Don't mind my vase of fake flowers. It got stuck there when we moved and I haven't had the inclination to do something better.
Here is the downstairs guest bedroom. It's nice having a king size bed in the basement and knowing that when people stay, they're more than comfortable down there. With the fridge and bathroom, it's essentially like a lower level apartment!
And next to the bathroom we have our utility room. We brought the fridge from the last house and plunked it down here. (The buyer didn't want it so we figured we could use a spare! It's come in so handy already with storing fall produce. It's full of apples, squash, and lots of Oktoberfest.) Waldo has a little hang out zone down here for when we're gone and there is loads of storage for baby clothes and holiday stuff. If I'm being honest, this might be my favorite part of the new place – storage space!
Before we head upstairs, lets head outside through the downstairs patio and check out the yard. It looks bigger in this picture than it is. It's a little over a quarter acre and the backyard is sloped down. It doesn't bother us at all now, but if it ever does we may consider leveling it out and putting some landscaping boulders at the end of the yard to help with that. The swing set came with the house (SCORE!) and Little K absolutely loves having his own swing in his yard.
Here is a view of the whole yard from the patio door. There is a walk-out patio there, but it needs a load of work.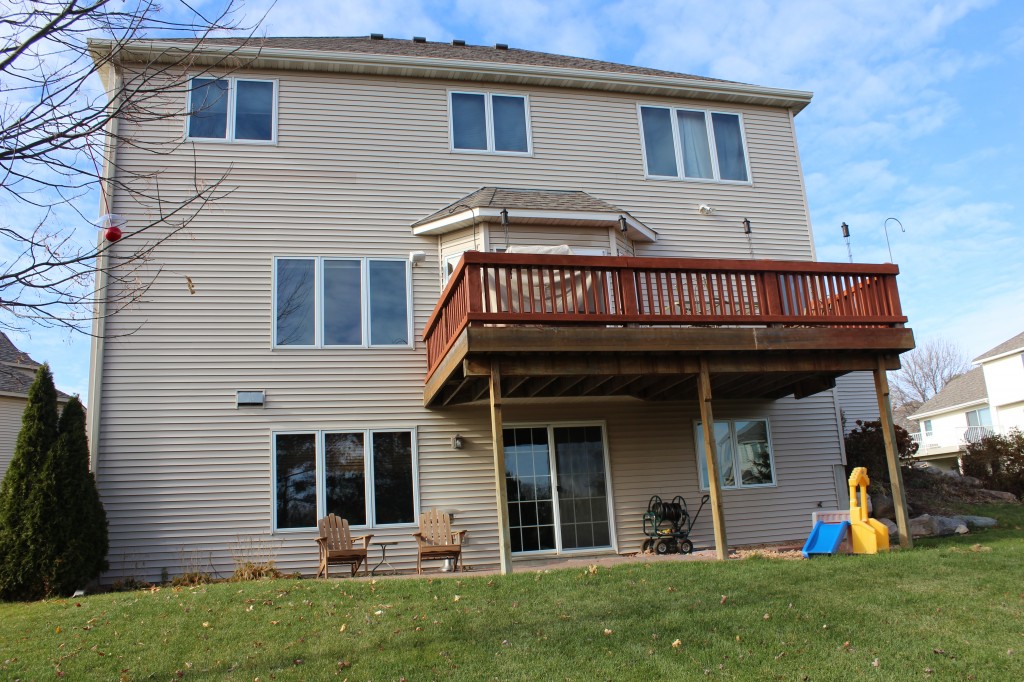 Like I said, the deck doesn't have stairs down to the ground. The walk-out patio is heaving. The posts for the deck are run down into the ground (not into cement). And half of the walk-out is brick pavers, the other half is gravel. The whole outdoor patio/deck project will probably be our first major remodel that we take on, but we haven't put any real plans to that yet.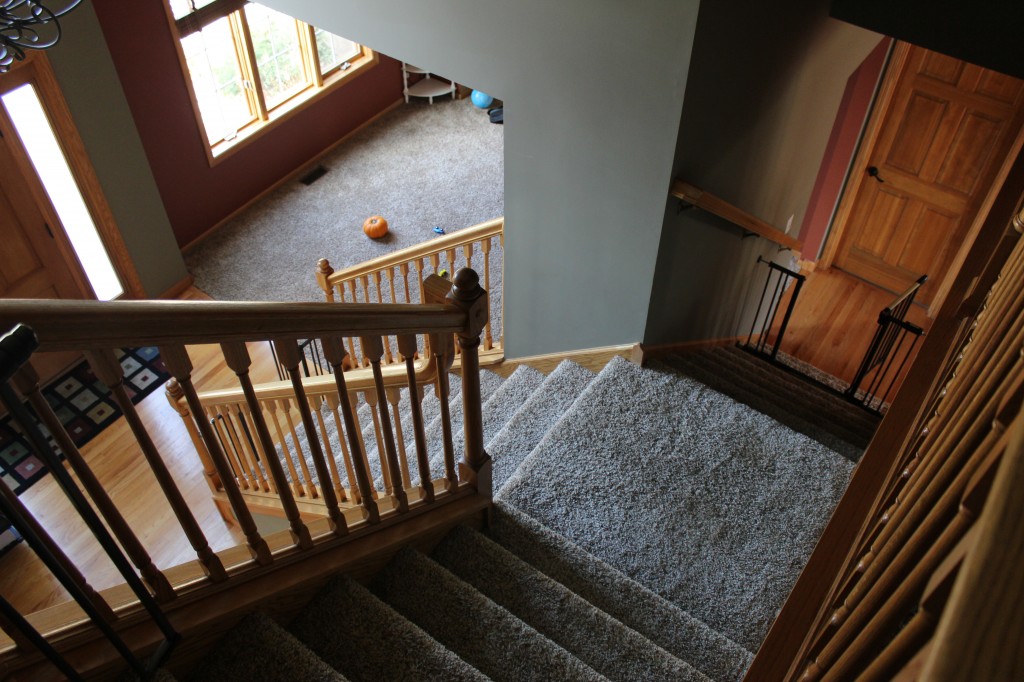 Alright, back upstairs! Lets go up to the top level. Here is a shot of our stairs to get there, just to show you the two entries of the stairwell. People always laugh about that, as do I. I'm not really sure the point of having two entrances like that and we pretty much always use the entry by the kitchen. It's a nice architectural piece, I guess.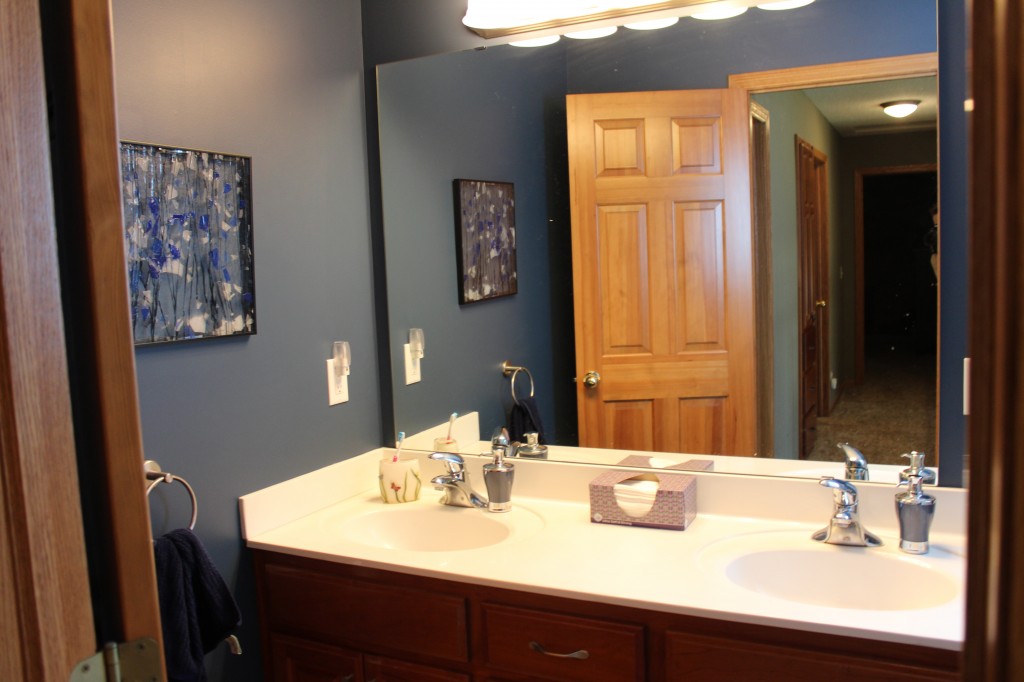 At the top of the stairs is the guest/Little K's bathroom. Haven't done a stitch of painting in the house yet, but I do like the deep blue in here for a kid's bathroom.
Even that cute little shower curtain was here when we moved. It needs to be fluffed up a little, but I think I'll keep it!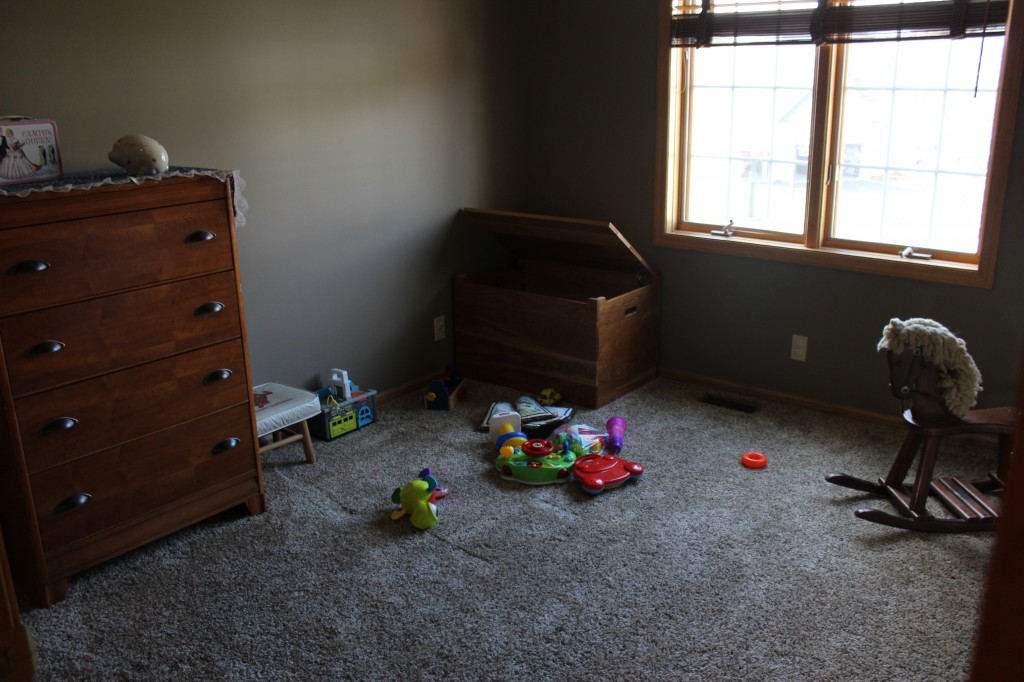 On one side of the bathroom is Little K's playroom. Someday it might be his bedroom, but for now it makes a great parking place for me to stash his toys and some random dressers that I don't know what to do with yet.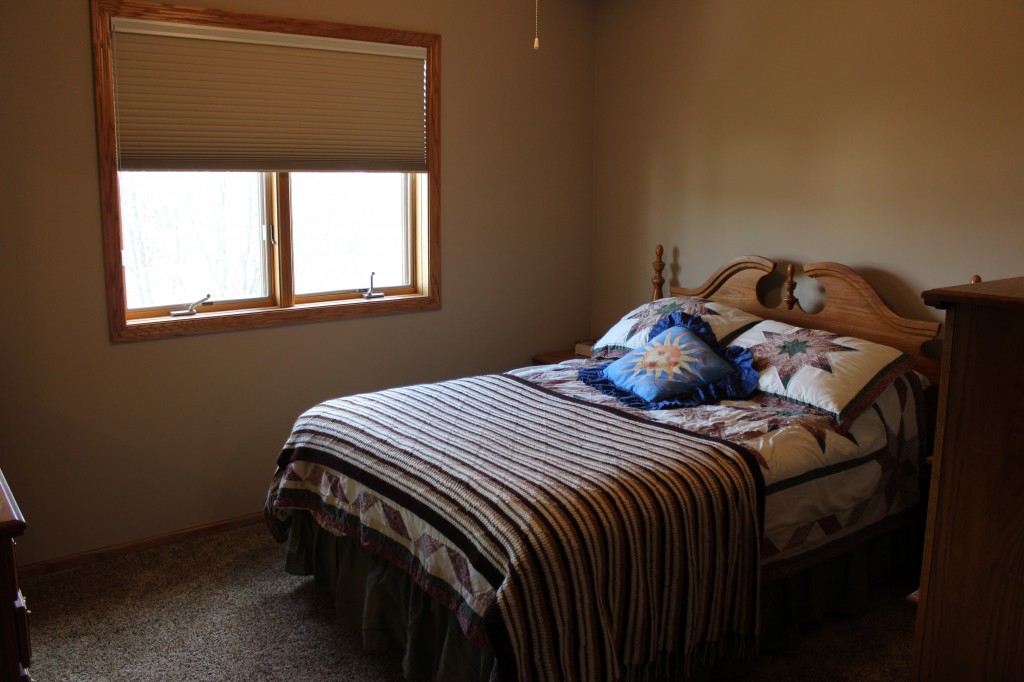 On the other side of the bathroom is the guest bedroom. Mostly it's where my sister Michelle sleeps when she stays over. I know it's hideously boring right now, I'll get something up on the walls someday.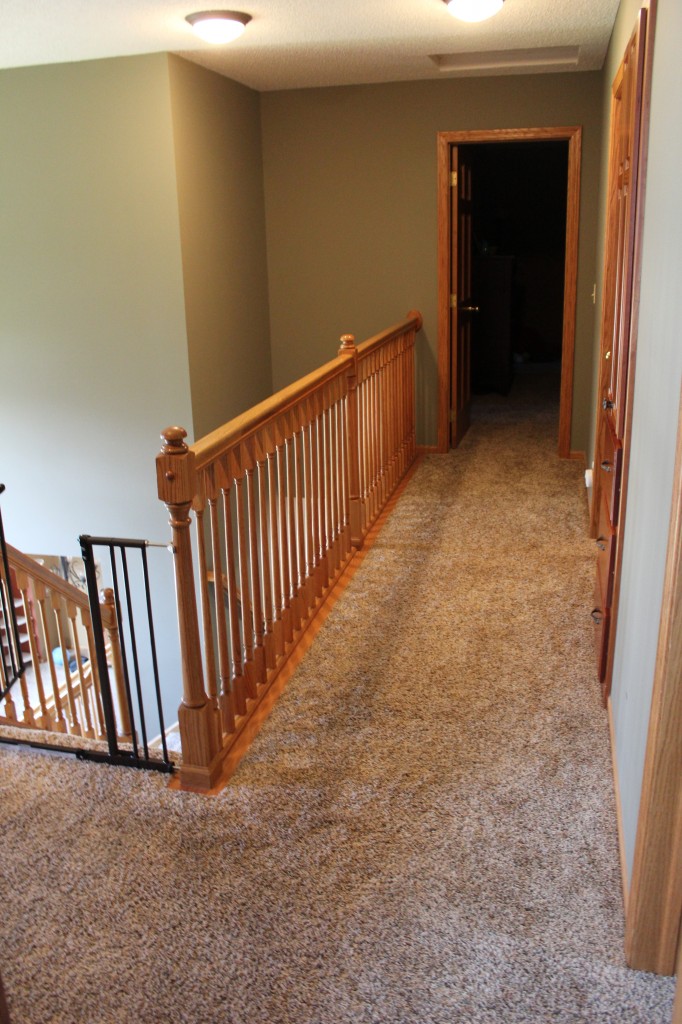 Ok, lets head back down the hall.
Here's a view back over the railing of the entryway, just to give you a better idea of the high ceiling and openness. I love that big window!
Here is Little K's room. I have plans for this room. Either I'm going to paint it turquoise and teal (like his last room) or I'm going to do an accent wall with planets on it. His room is sky themed, but it wouldn't be hard to ditch the daylight sky elements and just embrace the outerspace/nighttime part of the decor.
We do at least have a few things hung in there.
And we at last make it to the master bedroom. E and I love our new king bed, it's so nice having so much space. The light blocking curtains are nice too, but man does it make it hard to wake up! I want to paint this room someday, but for now I'm just trying to bring in some more teal accents. The only thing I had already that would work was tiny the teal and rust print that I hung over our bed. Works for now.
Our closet. Isn't it beautiful? E and I never had a big enough closet for us to share, so he always kept his things in another room. It's so nice to pick out clothes now. Everything has it's place, and a place for every thing.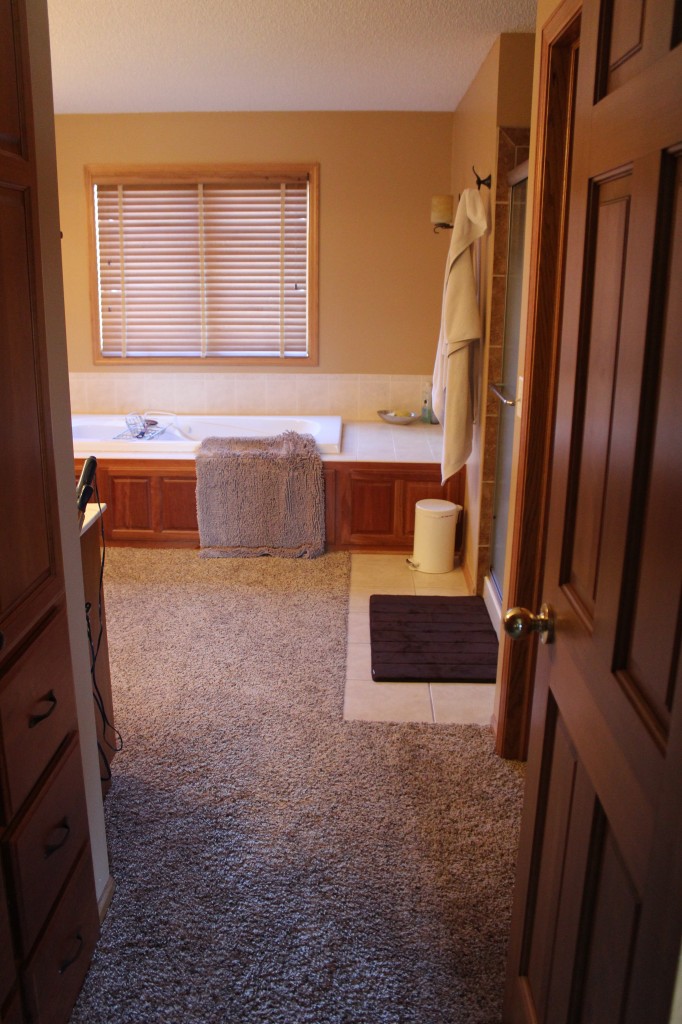 Here is the master bathroom. I don't love all the browns and the carpet in the bathroom isn't my thing, but it has an awesome tub and so much counter space I could cry with joy just thinking about it.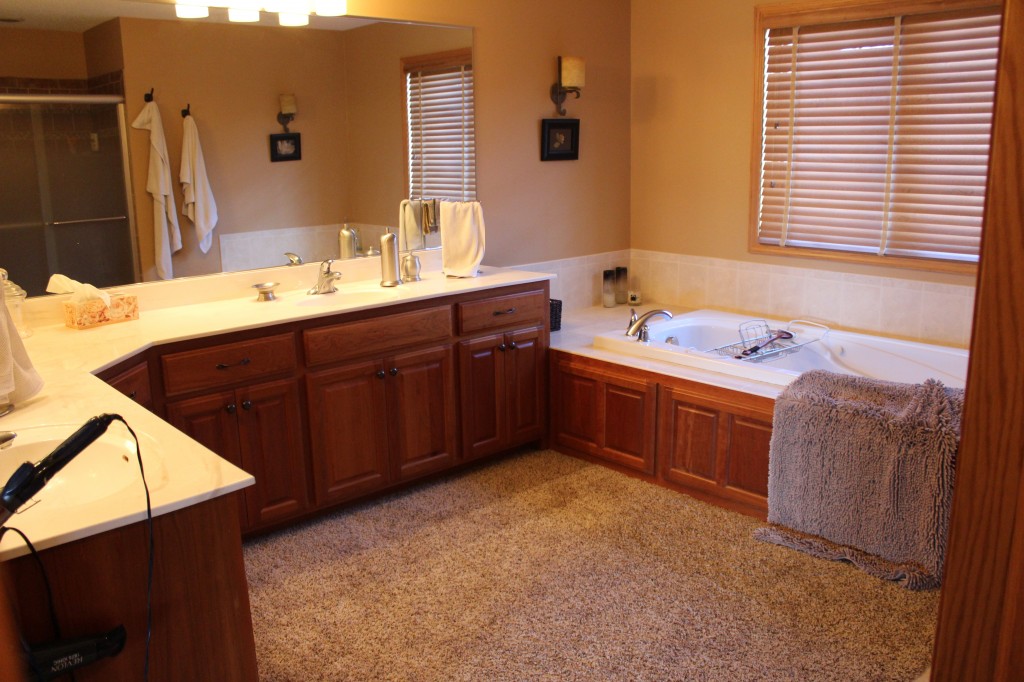 See? E and I are never competing for space in here!
Oh, it has a toilet too, but it gets it's own separate room. You know, for double the privacy.
Oh, and here is the shower. I should have opened the doors so you could actually see it, but it has really nice tile in there. It's the one piece of personality in this room. The rest will come with some fresh paint and artwork.
So that's it. I know that only 2 percent of the readers from the beginning of this post are still here, so gold star for you! I think I've shown you nearly every nook and cranny in the house. Sorry it took me so long to share, but we definitely do love it here!